About TEDxPlaceDesNationsWomen
Thursday 6 December 2018, 3:30 - 7:00 p.m.
TEDxPlaceDesNationsWomen is a unique event, bringing people together around "ideas worth spreading", in the form of short, impactful speeches and performances.
This year's edition – "Empower" - will focus on women's empowerment and gender equality. The 11 inspiring and passionate speakers, while covering a wide range of issues such as nuclear disarmament, domestic workers' rights, acquiring digital skills, and Female Genital Mutilation (FGM), will come together to amplify the following ideas:
The United Nations and other international organizations in Geneva have an immense transformational and positive impact on people's lives around the world, every day.

2018, with the momentum created by the #MeToo and #TimesUp movements, has become a milestone year for women's empowerment.

When women are empowered, they do great things for their communities and society as a whole.

Whether they are entrepreneurs, medical doctors, politicians, historians or students, they all are remarkable agents of change. The event provides a unique setting to celebrate female difference-makers around the world, yesterday, today and tomorrow.

The most pressing challenges of our time can be solved when their talent and ideas are unlocked.
The powerful success stories told by our speakers will hopefully inspire the audience to become engaged as well!
Join the online conversation by #TEDxNations or follow @TEDxPdNations.
TEDxPlaceDesNationsWomen will take place on Thursday 6 December, 2018. Stay tuned!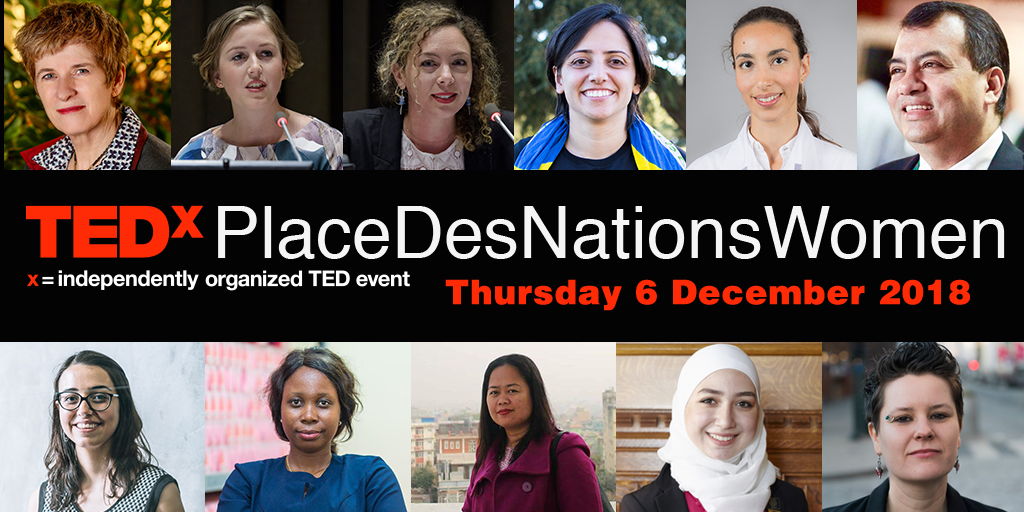 ---
About TEDx, x = independently organized event
In the spirit of ideas worth spreading, TEDx is a program of local, self-organized events that bring people together to share a TED-like experience. At a TEDx event, TED Talks video and live speakers combine to spark deep discussion and connection. These local, self-organized events are branded TEDx, where x = independently organized TED event. The TED Conference provides general guidance for the TEDx program, but individual TEDx events are self-organized. (Subject to certain rules and regulations.)
About TED
TED is a nonprofit organization devoted to Ideas Worth Spreading. Started as a four-day conference in California 30 years ago, TED has grown to support its mission with multiple initiatives. The two annual TED Conferences invite the world's leading thinkers and doers to speak for 18 minutes or less. Many of these talks are then made available, free, at TED.com. TED speakers have included Bill Gates, Jane Goodall, Elizabeth Gilbert, Sir Richard Branson, Nandan Nilekani, Philippe Starck, Ngozi Okonjo-Iweala, Sal Khan and Daniel Kahneman.
The annual TED Conference takes place each spring in Vancouver, British Columbia, along with the TEDActive simulcast event in nearby Whistler. The annual TEDGlobal conference will be held this October in Rio de Janeiro, Brazil. TED's media initiatives include TED.com, where new TED Talks are posted daily; the Open Translation Project, which provides subtitles and interactive transcripts as well as translations from volunteers worldwide; the educational initiative TED-Ed. TED has established the annual TED Prize, where exceptional individuals with a wish to change the world get help translating their wishes into action; TEDx, which supports individuals or groups in hosting local, self- organized TED-style events around the world, and the TED Fellows program, helping world-changing innovators from around the globe to amplify the impact of their remarkable projects and activities.
Follow TED on Twitter at http://twitter.com/TEDTalks, or on Facebook at http://www.facebook.com/TED.
Our Team
Organizers and hosts: Corinne Momal-Vanian and Melissa Fleming
Steering Committee: Corinne Momal-Vanian, Melissa Fleming, Claire Doole, Olivier Coutau, Laura Schmid, Alessandra Vellucci, Rhéal LeBlanc
Speech coach: Claire Doole
TV Production: Michele Zaccheo, Jean-Marc Glinz
Website: Mounir Khouja, Tiphaine Di Ruscio
Live webcast: Philip Alexander Williams
Visual Identity: Mariana Alt
Communications and Social Media: Tiphaine Di Ruscio, Dominika Tomaszewska-Mortimer
Logistics: Tiphaine Di Ruscio, Etienne Martinet, Antigoni Mavropoulou, Olga Cheremisina
Volunteer Coordination: Tiphaine Di Ruscio, Müge Olcay Suardet
Contact
Any queries? Contact us at: TEDxPlacedesNations@un.org
Social media hashtag: #TEDxNations