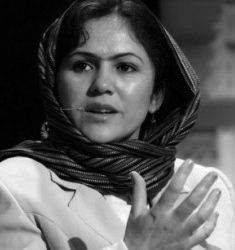 Fawzia Koofi, an Afghan politician and women's rights activist has made her leadership journey in a country of harsh topography, internal conflict, intermittent wars and a militant government. She completed high school during the war-ravaged years and entered medical school. Soon after, the Taliban took over in 1995, and barred women from access to all education. Finding the doors of university closed to her, Fawzia focused her energy towards women's rights and Internally Displaced People's organizations. In 2005, after the fall of the Taliban, and the first elected parliament in 33 years, Fawzia was elected to Parliament to represent Badakhshan, then elected by her peers as the first woman Second Deputy Speaker of Parliament in the history of Afghanistan.
As a young woman in a heavily traditional country, to come this far, Fawzia has battled male domination, imposition of men's selective religious interpretation on the rights of women and issues of power between men and women, and the old and new generations. Young people are seen as a threat by traditional power holders who do not want a new generation to organize, or to be in a position to challenge traditional authority. Fawzia has been re-elected to a second term to Parliament, and is now Chairperson of the Women, Human Rights & Civil Society Commission; she is currently the only woman Chairperson in the Lower House of Parliament.
Fawzia is the author of Letters To My Daughters, and The Favorite Daughter, an autobiography and best seller in many countries around the world.
Afghanistan remains one of the most dangerous places anywhere in the world to be a woman, or to be a politician, and Fawzia Koofi is both.

Follow Fawzia on Twitter : @FawziaKoofi77