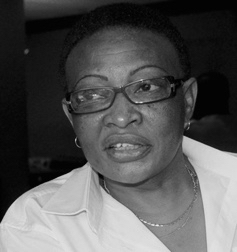 Thabitha Khumalo is the sitting Member of the National of Assembly for Bulawayo East Constituency in the 8th Parliament of Zimbabwe. A former labour leader and organizer, she is a founder member of the Movement for Democratic Change.
Khumalo is a well known human rights defender and champion of the rights of children, women, as well as the disadvantaged. Upon election to the Parliament, she was appointed member of the Parliamentary Forum of the Southern African Development Community, where she chaired the Standing Committee on HIV and AIDS.
In 2011, she was appointed to the Inter-Parliamentary Union (IPU) Advisory Group on HIV and AIDS and Maternal, Newborn and Child Health and served as its Vice-Chair until 2015. She was also active in the Parliament Select Committee on the new Constitution, responsible for crafting a new Constitution under the Zimbabwe Government of National Unity, and served in the Committee on Standing Rules and Orders, which is the supreme decision making body of the Parliament.